FoodfindsAsia.com | If you're stuck at home determining what to do with cans or packs of sardines, well, you're in for a feast! Yup, because we have curated a list of 6 yummy things that you can do with sardines and it's probably a mix of what you have done before (but with a twist!) and maybe not yet. So here goes, open those cans and packs, pronto!
#1 Put them as a Rice Toppings – I guess you have done that more often than not, huh? But wait, if you do it with egg and do it the way Kitchen Gidget does it, then it will be as amazing than what you may have usually done.
Ingredients
1 can of sardines in tomato sauce
1 cup of cooked rice (or quinoa or couscous)
1 large egg, fried or poached
Red pepper flakes (cayenne or aleppo chile pepper)
Instructions
Warm sardines with sauce in microwave.
Serve over rice.
Top with the cooked egg and sprinkle of hot pepper flakes.
#2 Turn sardines into a quiche – Here's another way to combine eggs and sardines by mixing them in a quiche from Cookit Simply. You may chop them or put them whole. It's your choice.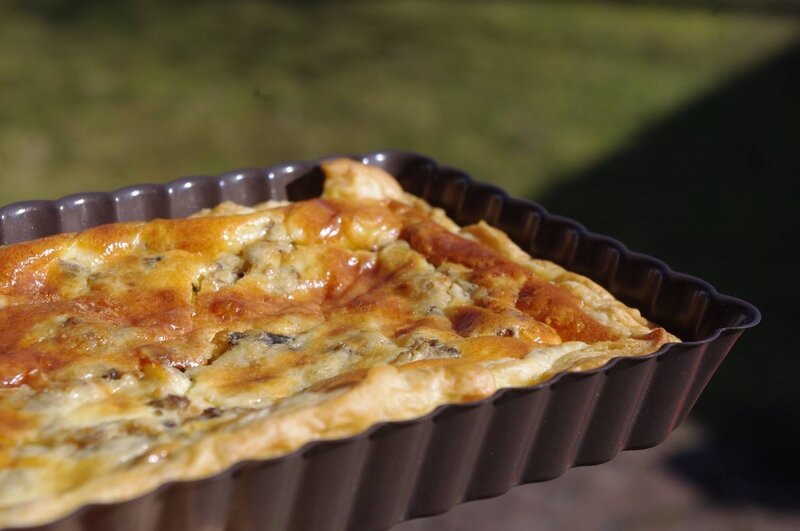 Ingredients
8 oz (225 g) shortcrust pastry
2 tbsp (1 oz) 25 g butter
8 oz (225 g) onions, skinned and thinly sliced
salt and freshly ground pepper
120g (4 1/2 oz) can sardines in olive oil
2 medium,eggs beaten
Milk
Lemon wedges
Instructions
Roll out the pastry thinly and use to line a 21.5cm (8 1/2-inch) loose-bottomed, French fluted flan tin.
Melt the butter in a pan and gently fry the onions until soft but not brown. Add salt and pepper, then leave to cool.
Drain the sardines and discard the tails.
Place the onions in the pastry case, pile up a little under each sardine – these are positioned like the spokes of a wheel.
Season the beaten eggs and make up to 300 ml with milk.
Carefully spoon the egg mixture round the sardines.
Bake in the oven at 200°C (400°F) mark 6 for 20 minutes.
Reduce the oven temperature to 175°C (325°F) mark 3 and cook for a further 20 minutes.
Serve cold with lemon wedges.
#3 Pile them on Tacos – Why didn't I think of that? Instead of ground beef, use sardines. Here's a quick way to do it from Wild Planet Foods.
Ingredients
Sriracha mayo
3 small soft tortillas
1/2 cup guacamole
1 radish, thinly sliced
1 can Wild Planet Wild Sardines Skinless & Boneless Fillets in Water
1/2 cup chopped or shredded purple cabbage
1/4 cup queso fresco
1/4 cup chopped cilantro
1 fresh lime
Instructions
Spread sriracha mayo, to taste, onto each tortilla
Top with guacamole, fresh radish slices, sardines (maybe add some skinless and boneless fillets), cabbage, queso fresco, chopped cilantro
And a squeeze of fresh lime juice
#4 Add them into your pizza – If you have used anchovies in our pizza, why not sardines? You can even use conventional sliced bread and toss up some pizza sauce and voila! But try this simple recipe from Eat Smarter.
Ingredients
Regular Pizza Dough (frozen is ok)

16 ready to cook sardines (no heads)

400 

grams diced canned tomatoes

A bunch of Spinach (or mangold leaves)

1 onion or shallot (diced)

1 garlic (clove)

250 

grams

grated cheese
Salt
Ground pepper
Rosemary sprigs or Basil
Olive oil
Instructions
For the topping, rinse Spinach and chop coarsely.
Peel onions and garlic and finely chop.
In a pan, heat 2 tablespoons oil and sauté onions and garlic and add Spinach.
Season with salt and pepper and spread over pizzas.
Sprinkle cheese on top and place halved sardines over cheese.
Bake in preheated oven at 220°C (approximately 425°F) (upper and lower heat) for about 15-20 minutes.
To serve, garnish with Basil or Rosemary
#5 Toss them on Sliced Baguettes – If you've got those baguettes in the fridge longer than usual, you'd best get them out and toss sardines on them. This is a twist on your usual fare, by adding some yummy cream cheese. Here's the simple recipe from Chicken of the Sea:
Ingredients
6-10 toasted baguette slices
1/2 cup light cream cheese
1 tablespoon chives or dill
2 (3.53 oz) pouches or a regular can of sardines (drained)
Instructions
Toast baguette slices.
Mix cream cheese with chives or dill.
Spread cream cheese on toasted baguettes and place sardines on top.
#6 Classic Italian Sardine Spaghetti – Oh, I love this twist to your classic sardine pasta. The ingredients are so easy to find and they're probably just there in your pantry. Let's do this one from bbcgoodfood.com –
via bbcgoodfood.com
Ingredients
100g spaghetti
1 tbsp olive oil
1 small onion, finely chopped
2 large garlic cloves, finely chopped
10 cherry tomatoes, halved
95g can boneless sardine in olive oil, drained
8 green pitted olives, halved
2 tsp caper
Handful of parsley leaves, chopped
Instructions
Cook the spaghetti following pack instructions. Meanwhile, heat the oil in a pan, tip in the onion and cook for 5 mins or until soft.
Add the garlic and tomatoes, and cook for a few mins more.
Stir through the sardines, breaking them up lightly with the back of a spoon.
Add the olives and capers, season and heat through.
Toss in the cooked, drained spaghetti, a splash of the cooking water and parsley.